This October, Tello Mobile Launches an Autumn Trilogy of Savings
When it comes to smart ways to save more, Tello Mobile really shines. 
Money is tight for a lot of people right now. 
That's why getting ahead on your bills might just be the one thing that makes the difference – especially heading into the winter months and considering your holiday fund. Speaking of which, the best way to prevent holiday overspending is to start a Christmas Savings Plan in October (⬅️  Tello tip: it's never too early to plan).
Don't know where to start? How about your cell phone bill? Tello's new offer is here to help. We took our best seller plans and lined them up together with a 3-month discount, so this will be what you're going to pay per month:
What does this mean? Switching to Tello and grabbing one of these amazing deals means that your phone bill can be as low as $5/mo for the rest of 2020. For e.g, if the 1GB plan is right up your alley, put aside $15 total for ALL remaining phone bills for this year. That's it! 
If you're already a Tello Fan and are wondering how to best use this deal and what will it do for your family phone bill, check out the example below: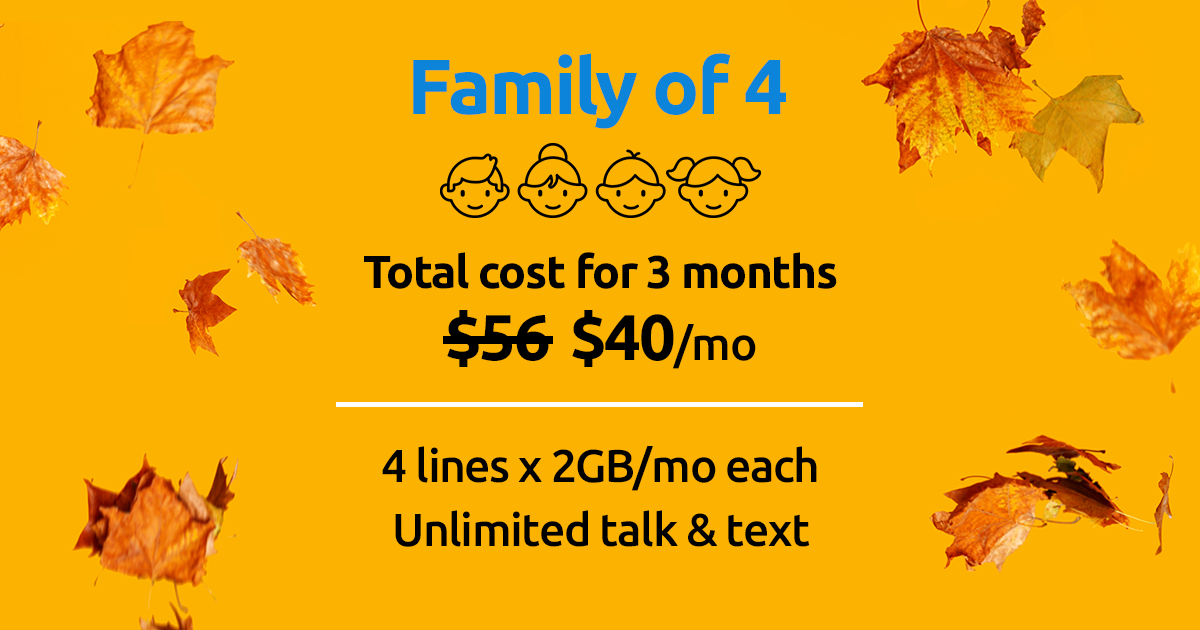 Oh, there is no payment in advance. No catch. No extra fees. And no contract, so you're not tied into some years-long commitment. 
The offer is valid until Oct 31, 2020, for newcomers & new lines added.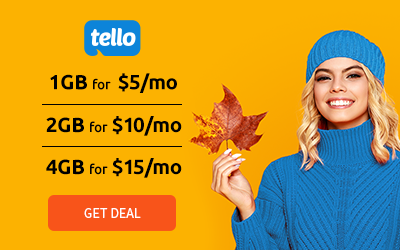 🏆 Why this offer is the 2020 win everybody needs?
2020 has destroyed a lot of things. We weren't prepared for it. It turned our world upside down and our fears inside out. That's why fixing your finances and getting ahead of your expenses is a must for your peace of mind.
Hate to break it to you, but if you think your monthly cell phone bill is outrageous, you're probably right. An average American family pays (read wastes) more than $70/month on their phone bill. Considering that regular Tello plans start at $5/mo (even sans discount), the fact that so many people are overspending on wireless seems outrageous. 
If you've been searching for a more affordable phone service that can keep you connected for less, you're in luck. Tello's Fall Offer is designed to save you tons of money – from now until 2021. 
How does the 3-month offer work?
✔️ Pick the amount of data that best suits your needs: 1, 2 or 4 GB – every phone plan combo included in his offer comes with unlimited talk & text, no worries
✔️ Sign up to Tello (if you're a new customer) or add a new line to your Tello family plan
✔️ Bring your device – you can always choose a compatible one from us, obv! 
✔️ Sit back and enjoy the savings – no more stressing about your phone bill for the rest of the year
💸 Do you have to pay upfront, in advance?
No. 
This is not that kind of offer that makes you pay everything in advance, just to get you in the door. Regardless of the plan you pick, you pay monthly, same as always, at Tello. This is an offer that is guaranteed to ramp up your savings, without compromising on the key elements of your desired phone plan. 
🗓️ What happens after the 3-month period?
After the first 3 months of service, you will pay the regular plan price, $10/month for unlimited talk & text + 1GB, $14/mo for unlimited talk & text + 2GB or $19/mo for unlimited talk & text + 4GB.
If you hit your monthly capacity, no worries. We don't charge overage fees. Instead, you can just upgrade your plan for more data anytime. Upgrading or downgrading your plan is free, but in order to keep the offer, you have to stick to the selected plan for 3 months. If for some reason,  you want to reconfigure the plan before the 3-month deal expires, you will lose the offer and you will pay the full price of the new chosen plan moving forward.
What are you waiting for ⁉️ Grab this offer until 10/31!