5 easy ways to save big with No Spend September activities
Since we were little September was a new beginning, which may explain the appetite for a fresh start in early autumn. If you still have the drive to experiment with something new count on us for a list of No Spend September activities. Let's see how we can save up good bucks for the really important stuff in life, without feeling like a punishment.  
What's your saving goal this year? ⁠

Your personal motivation is key. Before jumping into a No Spending month challenge, check in… yourself. What would you need/like to save up for? 
Say, you've been dreaming about a new gadget for your hobby. Or you've been planning a trip but money was not on the table for that. A fancy dinner out, a backyard trampoline, or just saving some money in this uncertain world. You know better…  
Conscious buying to earn money back
Once you have a saving goal set, you're actually ready to earn some money back. Here's our list of No Spend September activities you may want to try out.
Know all the saving options that different services offer
Say you need a new home appliance. Consider multiple services instead of the closest store. Look for appliance recycling rebates. On a simple search, we found many ads like this one: "Have an old refrigerator or freezer that still works? We will remove and recycle it for free, and you'll receive a $50 check!"  
Tello's obsession with default low prices is the result of building prices in comparison with other carriers on the market. Even heavy users can benefit from much lower bills than other players on the market.

So, if you need to save up on your phone bill, Tello is a good option. If you're already with Tello and you need to save up even more on your phone bill, leave upgrading for later, and include downgrading for a month or two in your No Spend September activities. 
Pay your bills with loyalty points
Some services offer this option, including Tello. If you're already a Tello fan in action, you've probably collected Tello Dollars already. So, add it to your list of No Spend September activities to consider the option of paying your entire Tello phone bill using your Tello Dollars. 
Plus, you can go the extra mile, and earn some more for future phone bills with little to no effort. Refer Tello to a friend by simply sharing your account referral code via social media or email and you both get Tello Dollars that can cover your phone bill, once your friend has a successful order with Tello. Here are more details if you're curious. 

Once the amount of Tello Dollars is enough to pay for the entire invoice, you can also get a new line for you or a plan for someone in the family with Tello using your Tello Dollars.
Use compare-price websites
The closest to home or your job is the easiest, of course. But there was this 94-year-old lady we met once that said she changes routes to surprise her brain. An interesting exercise, right? We can all try it from time to time and rewire our habits.
To find the best deal for must-have items or bare necessities on your shopping list just google "compare price website" and go with the flow. You may discover a new brand, a new shop you didn't know about before. We had some nice surprises for sure.  
Cut & Paste more good bucks
So, here are more No Spend September activities besides shrinking your phone bill and going for deals. 

Try spending freeze for a week or two
Do you know that feeling when your brain freezes? ⁠⁠It's totally different when it comes to a spending freeze. ⁠Instead of panicking, you're saving money by adding some rules or obstacles to crazy expenses. ⁠
So, plan consumption as if you earned less. ⁠We'd definitely add this one to our to-do list of No Spending September activities. 
Wrap up – No Spend September activities
Save up with conscious buying this September and use your savings for something you've been planning for a while. 
Some options to save up: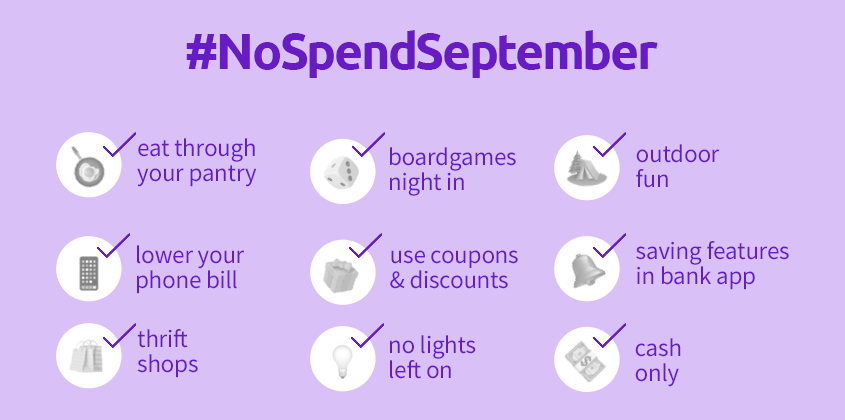 If you have more ideas please don't keep them a secret. Your comments are soooo welcome.