Parents, blogs, TED Talks, books, YouTube channels – there are a lot of places that can become quite well of knowledge when it comes to life lessons. Top of our list? Movies! We turn to them for a sweet escape and chill afternoon, but also for some really spot-on life tricks, especially when they teach us a thing or two about money matters. 
If we can learn parenting tips and couple psychology from movies, why not also about financial key aspects? Well, we went through our watchlist notes and here are some takeaways.   
"The Wolf of Wall Street"
We don't know about you, but every time Leonardo DiCaprio wants to show us or teach us anything, we listen.
In the 2013 film "The Wolf of Wall Street", he plays a stockbroker who can sell anything to anyone. His ultimate goal is to earn a big commission, regardless of whether his clients make money or not, and he stops at nothing to become the richest man on Wall Street. 
Lesson: greed and instant gratification are not a good combo when juggling your finances.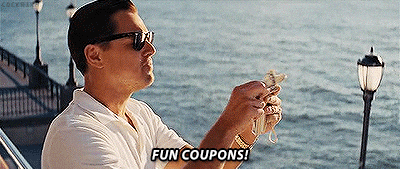 "The Social Network"
The movie tells the story of the birth of social media and suggests that Mark Zuckerberg, the founder of Facebook, might have stolen the idea of Facebook from the Winklevoss twins, who hired him to build a social network similar to Facebook. 
Lesson: business & friendship don't always mix well together. Identify authentic friends and always think about all the legal implications of going into business together.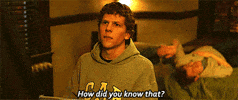 "Wall Street"
Bud Fox, played by Charlie Sheen, is smitten by the flashy lifestyle of the rich and powerful and so, he starts spending money he doesn't have on things like an overpriced apartment or ridiculously expensive art just to fit in the upper-class world. 
If, by chance, you haven't' seen this movie by now (not likely, but still), we won't give out more spoilers other than this one – Gordon Gekko's "get-rich-at-all-costs attitude", fantastically portrayed by Michael Douglas (who won an Oscar for the part) became a figure of pop culture. 
Lesson: managing your spending sprees and learning to live within your means will do you and your family so much good in the long run. Playing by the rules and being a man of honour are more important than all the cash in the world.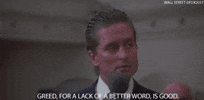 "Pursuit of Happiness"
This movie is quite the opposite of the ones mentioned above. It's not about greed, it's about resilience. 
It tells the true story of Chris Gardner and his young son, as they face a series of obstacles – like being evicted from their home, forced to stay in transit station restrooms and at one point having only $22 to their name – on the path to success. 
Lesson: never give up, no matter the hardship, struggle or strike of sheer bad luck. Learn to seek out opportunities and work hard for your dream. Debt does not define you and you can always find ways of making ends meet. 
"Gilmore Girls"
While Tv series about how people save money are not that hot, adding "Gilmore Girls" to the list is a very personal (not at all perfect) choice, but let me explain. I'll start this by making one thing very clear: I love Gilmore Girls. Now that you have the disclaimer, feel free to judge :). 
Lorelai, 32 years old, has always done things her way. Raised in a world of money and cotillions, she gets pregnant at age 16 and chooses her own path. Works her way up from maid to manager at the Independence Inn, as her 16-year-old daughter, Rory, transitions from public school to the prestigious Chilton is similarly followed, exploring her ambition to study at an Ivy League college. It's basically your humorous, heartfelt drama about friendship and family.
When it comes to financial takeaways, there are some good ones and some really unfortunate ones that we don't stand by – like ordering takeout every day. 
The good: Lorelai's scrappiness – since there are many parts of her and Rory's lifestyle that are very thrifty. She makes her daughter's prom dresses and is couponing – regardless of her daughter's mocking. The mother-daughter duo even goes window-shopping one time because they are too broke to be tempted by going into stores. Another good lesson is regarding big travel plans – like the three-month backpacking trip around Europe for the summer the girls embark on, that could be afforded because they were saving up for it for years. 
F.R.I.E.N.D.S
It's been 26 years since Friends first premiered on television – feeling old yet? – and although much has changed since then, the funny sitcom includes many money lessons we can still benefit from. 
Do you remember the one where Rachel, Joey, and Phoebe couldn't afford to keep up financially with Ross, Monica and Chandler? Lesson: be honest about your struggles and let your friends know that keeping up with a different lifestyle is not possible for you, at the moment. 
How about that time when Joey landed his first major acting gig as Dr. Drake Ramoray on Days of Our Lives and overestimated his financial stability? He leased a new apartment and splurged on a lot of expensive items. Lesson: even when things finally are looking up for you, consider increasing your savings and maintaining your current lifestyle. Treat yourself once in a while, but not all at once.
Remember that time when Chandler takes Ross with him to cancel his membership at the gym and Ross also ends up with a gym membership? Lesson: cancel the subscriptions that you don't use and trim your spendings accordingly. Not paying for more than you use is a rule by which Tello swears, always!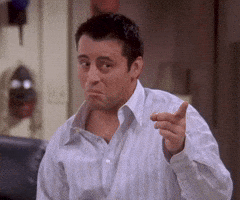 If you guys have more beloved movies or Tv series that need to be on this list, with financial wisdom and all, drop us a comment below! Can't wait to see them!