To be or not to be… VoLTE. This is the question of the day as nationwide mobile providers have begun shutting down their 2G and 3G networks to make way for 5G. What does that mean? Well.. it basically means that all customers calling via the 3G network will no longer be able to make or receive calls… unless they enable VoLTE on their devices.
Right! Now the cat is out of the bag! And while 2 minutes ago it might have seemed like you had an option: to enable or not VoLTE on your phone, the truth is that VoLTE is a prerequisite to clearer calls, better signals, and a seamless voice call experience. So enabling VoLTE is not quite an option, but a necessity.
Still… before we jump into the advantages of using VoLTE and the need to enable it, let's see first what VoLTE is and why you need to turn it ON.
What is VOLTE and why do I need it?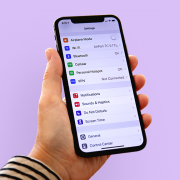 VoLTE stands for Voice over LTE and it allows mobile users to make phone calls over modern LTE networks. If you have a relatively modern 4G/LTE phone, chances are it is VoLTE capable. Turning on VoLTE requires you to turn on LTE data on your mobile. If your mobile data is not turned on, your phone won't be able to use its VoLTE capability.
We know we said "turn on cellular data" and you immediately thought of extra data usage. But that's not the case! You don't need to worry, as VoLTE calls are still billed as minutes, so VoLTE calls will NOT generate any data usage.
How can I tell if I am using 3G or VoLTE for my calls?
The easiest way to check this is to see if your phone is VoLTE capable and if it's enabled. So first thing first:
If you have a relatively modern 4G/LTE equipped phone, then chances are it is VoLTE capable. Check below the steps on how to find VoLTE in your phone settings and check its status: enabled or not. If VoLTE is ON, then you're good to go. Your calls are already using VoLTE.
If you have an older phone, and you can't find anything in your phone settings related to VoLTE / HD Voice / Enhanced calling, then your calls are using 3G.
Plus, you will surely hear from us soon on this topic. We'll notify you via email and SMS and guide you through the process as we'll do our best to help you enable VoLTE on your phone active on Tello.
Why should you turn on VoLTE?!
Well.. this is an easy one! Simply because you will enjoy clearer and more reliable connections since your call will be using modern LTE networks instead of the older GSM or CDMA networks. And… if you want to go into details, you should enable VoLTE because all national carriers are gradually getting rid of their non-LTE networks (3G). And while the decommissioning process for all 3G networks may take until June 2022, the gradual shut-down may affect you sooner than expected and you may experience service interruptions. So yes, needless to say turning on VoLTE is not an option, but a necessity at this point.
Still undecided? Well, here are a few more reasons you should enable VoLTE:
How can I turn on VoLTE on my iOS device?
Tap Settings > General > Cellular (or Mobile)
Make sure the Cellular Data (or Mobile Data) switch is in the "ON" position
Tap Cellular Data (or Mobile Data) Options > Tap Voice & Data
Ensure LTE is selected (has a checkmark). If not, tap it
If you see a VoLTE slider, ensure it's in the "on" position; if there is no slider, then VoLTE is already enabled
These instructions are available for the newest iOS versions (iOS 14 or newer). For different iOS versions the process to turn on VoLTE should be very similar. If you don't manage to find a step, a simple Google search or search through your iOS device may do the trick.
Once VoLTE is enabled, restart the device and enjoy high quality voice calls.
How can I turn on VoLTE on my Android?
Depending on the specific Android device you are using, these steps may differ somewhat.
Tap Settings >Tap Network & Internet >Tap Call > Tap to enable VoLTE / HD Voice/ Enhanced calling.
OR
Go to the dial pad of your phone > Tap the 3 dots/menu in top right >Tap Call Settings > Tap to enable VoLTE / HD Voice / Enhanced calling.
If you can't find VoLTE on your device with either of the 2 guides above then try a general search in Settings. The next selection is likely to be something along the lines of Cellular Networks, Call or Call Settings. At this point, look out for any option that mentions VoLTE, Voice over LTE, HD Voice or Enhanced calling.
Once VoLTE is enabled, restart the device and enjoy high quality voice calls.
What can I do if my phone does not support VoLTE?
Unfortunately, there's no other way to put this… if your phone is not VoLTE compatible, you will need to start searching for another device. You can check our phone collection as we have several devices on SALE or pick any phone listed on Tello.com, as they are all VoLTE capable. Or you can simply enroll a new device into Tello from any seller of your choice.
You need to do this as soon as possible because you will start to see a gradual decline in 3G services and an increase in 3G service interruption. Also, Tello will not be able to support any 3G calls anywhere in the country after June 2022.
If you still need help, just email us from the Contact page in your online account, but ensure you provide us with the make and model of your phone as well as the IMEI 💡