If you weren't expecting any more surprises from your favorite flexible carrier, you're in for a treat! We've dropped the prices for most of our phone plans, again. That's right, our plans have received yet another price update following the one in October. We're dedicated to bringing our customers the best value possible, so we're making pleasant surprises our specialty.
Plans previously above $17 are now cheaper
We don't know about you, but with the new year drawing closer we've started thinking about the resolutions we set at the beginning of 2017 and with this new price drop we're hoping to help you end the year with a win. After all, the more you save on your phone bill, the more you get to spend on Christmas presents for your loved ones or yourself.
Just visit our plans page and you'll find that all the plans that were previously above $17 are now up to $6 cheaper. For example, a plan with 500 minutes & 3GB 4G that would've previously cost you $34 per month, is now only $28 per month.
Here are a few more plan combinations to give you an idea of what the new prices look like: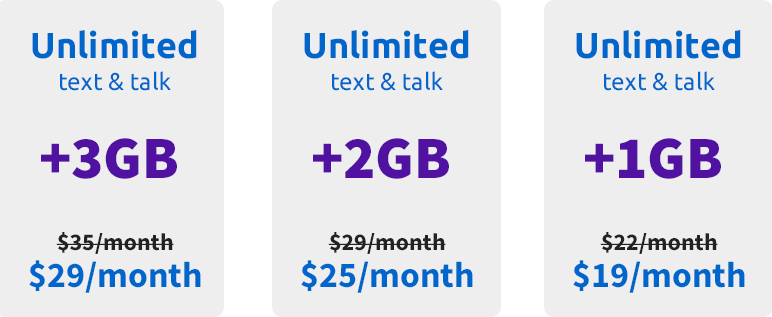 Don't forget: all our plans include unlimited text by default and our data offer still stands – for every 5GB purchased you get 5 more on the house.
Better plan choices for you
These new deals are here to stay and they're available to all our customers. So if you're not part of the Tello family yet, create your account in less than a minute and you'll be on your way to flexible plans and incomparable Customer Support.
If you're already a customer and your plan is part of the decrease, you don't need to move a finger: your Tello account will be automatically updated. Some plans will be upgraded to match the new price, which means you'll be receiving a lovely gift of more minutes or data while paying the same as before (or even less!). If you prefer to revert to your previous plan combination, don't forget you can do so at any time. For other plans, the price has simply gone down, so keep an eye on your inbox for news from your favorite Customer Support team.
If your plan isn't part of the decrease, you already have a pretty amazing deal following our previous decrease. But if you were waiting for the opportune moment to upgrade your plan to one with more data, this is your chance. All our plans with 1GB, 2GB, 3GB or 5GB have lower prices than ever and keep in mind they include free tethering and unlimited 2G data once your 4G allotment runs out.
We're here for you 24/7 as always, should you have any questions about this latest change. In the meantime, we'll be pondering new ways to make our customers even happier in 2018, over a big mug of hot cocoa.