iPhone 8 Flash Sale: Get the upgrade you need!
New month, new beginnings, new sale!
We're rooting for a fun, nutty, pumpkin spiced September! No better way to start the autumn season than by letting some prices FALL. This month's favorite brand crush: iPhone. If you had your eyes set on a new iPhone 8 for some time now, there's no better moment than this one: Tello's having an iPhone 8 flash sale. Get yours for $729 and save $120 just like that!
Get the upgrade you need! Keep all those summer pics and the videos you love with the awesome price for iPhone 8 of 256 GB! No more deleting images!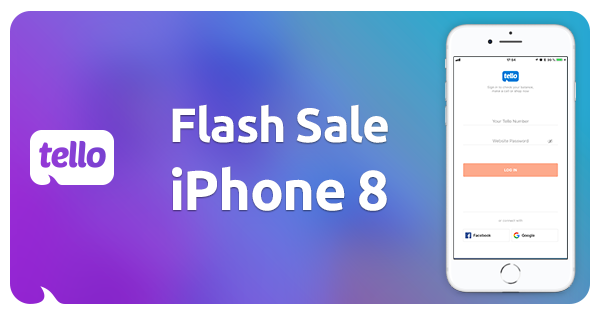 If you're anything like us, you're set on getting more value for money.
While there's no secret that iPhone fans have the big ticket when it comes to cost, that doesn't mean they couldn't use a sweet deal on a new phone and a lower phone bill overall. Tello is answering prayers all the way. You can cut your phone bill in half with Tello Mobile's phone plans that start from $5/month and get a good price on a newer model of your favorite phone brand, with bigger storage.
iPhone owners usually go for the 2GB plus unlimited talk & text plan for just $19/month, but you can build your plan to suit your exact calling needs.
September is THE month for new release and exciting news.
If you're feeling bad about your older iPhone, could use an upgrade but can't really afford the arm and leg cost for the upcoming model, Tello's flash sale is right up your alley. Get your iPhone 8 today! The $120 discount is valid while stocks last, for both existing and new comers, so hurry!
If you're on the other side of the operating system and prefer Androids or you fancy another iPhone model, not to worry, we have you covered with sales ranging from $25 to $130 for selected phones. See the entire array of discounted phones here.