'Tis the Season for Savings
Tello's 12 Days of Christmas: All plans $5
While for most the people the holiday season is hectic and the extra spending keeps piling up, for people in the market for a new wireless carrier it's the perfect season for savings thanks to Tello Mobile. Join Tello this December & build the phone plan you need for only $5!
Get Cozy With Tello's 12 days of Christmas: between 12-25 December any phone plan is just $5 for the first month of service. This exclusive offer is valid for newcomers only.
A lot of families often feel tremendous financial pressure to buy presents, take vacations, and other monetary issues where people are trying to make those people around them "happy". Tello believes in paying for what you need and nothing more, and putting some money on the side for all the things that really matter. We're obsessed with savings, hence the 12 days long offer this Christmas when all plans are $5, even the biggest one with 10 GB and unlimited talk & text.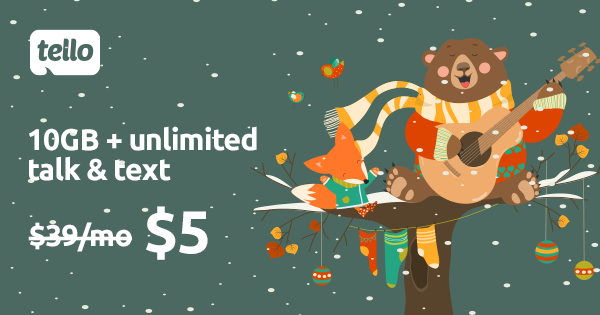 One season, one price for all
Reports say that United States household debt reached a new peak of $13.3 trillion, an increase of $454 billion from the previous year. Our culture provides too few emotional payoffs for saving money, hence all the seasonal ads urging people to spend more and more.
When it comes to wireless, most people turn to the big four just because they don't know what else is out there and get stuck in a 2-year contract paying more than $80 per month for phone services. No-contract operators like Tello Mobile have the best value for money and the flexibility you need to adjust phone plans to your lifestyle. Stop living from phone bill to phone bill!
❄️ Tello's 12 Days of Christmas Offer is perfect for gaining a head start on that long term new year resolution we have each time on our list of saving money. Get 4 GB plus unlimited talk & text with only $5/mo. instead of $29/mo., the regular cost of the plan.
❄️ You can customize the amount of minutes, text & data as you please and still benefit from the offer. Get 1GB and unlimited talk & text – that's usually $14/mo. – for $5 for the first month of service with Tello. 'Tis the season to try out the service and see if it fits your lifestyle.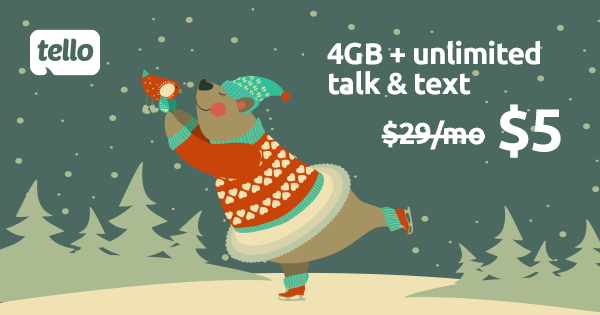 All Tello plans come with free tethering, no contracts and no credit checks. Open an account in seconds and bring your own phone or get a new one from Tello. Everything done online and easy peasy. No more waiting in line, no time wasted on holiday traffic jams.
You'll soon find that switching to a more affordable carrier is the gift that keeps on giving in terms of savings all year round. Tello has over 3.7k unbiased reviews from happy customers that rave about our excellent customer service, great prices and features.