Best wireless deal in December: 12 Days of Savings with Tello's Christmas promo

Let's face it: Christmas shopping turned into Christmas hunting in the past years. While some find it charming to run for gifts, most people find it tiring and extravagant when seeing the total cost. If you decided to go for some practical gift to grab online, like a smaaaart phone plan, the way to keep the good old Christmas habits and make it fit your budget is to take advantage of the best wireless deal out there in December. And that's Tello Mobile, consistently more affordable than most carriers, but super flexible when it comes to tailoring your own plan, according to lifestyle. 
Best Let it SALE: $10 and you've got it all
What do we mean by the best wireless deal for you or your Christmas pals? Well, you get flexible, unlimited wireless with great coverage and international calls included, but for way less than what big wireless companies charge. If the phone bill average in the US is about $100, Tello's best wireless deal this December is $10 for the first month and $19 going forward.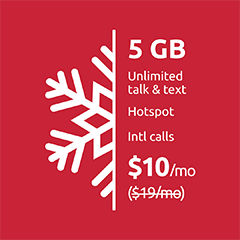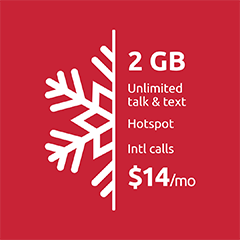 Best wireless deal for new
&

existing Tello customers

You've got 2 ways to use the best wireless deal with Tello until December 16 (EST). 
Switch to Tello and buy yourself a gift: open an account, get a new line and match it with the 5GB discounted plan. Enjoy! 

Since a Tello account can host several lines, you can buy someone in your family a discounted plan aka Christmas gift by setting up a new line.
Discover more benefits of Tello gifts
Tello's revolutionary input is flexibility. But on top of that, the best wireless deal in December. Its large selection of plans starts as low as $5/month, including international calls besides domestic minutes and text. The maximum price is $29/month, including Unlimited data, talk, and text, as well as international calls. 

Plus, it doesn't have the extra options (and extra costs) other carriers have. Do you know why? Because most people came to understand these are not worth the extra price eventually. 
Custom-made plans for any budget and personal style; but also, predefined packages are available at a fair price, ranging from $5/mo to $29/month. 

Easy downgrading & upgrading from month to month, with no penalties whatsoever. 

Nationwide 4G LTE/5G Coverage

for streaming and social media too.

Tello plans come with free tethering, so you can share data easily with any neighboring device.

Minute plans include

international calling to 60+ countries

. 

One account can host multiple lines for different purposes or different family members using the same account. 

Tello eSIM

is FREE, yep. The activation is instant and your friends don't need to wait for a physical SIM to arrive anymore. Skip that! They'll just need to check for eSIM compatibility:

https://tello.com/buy/esim.

 

Easy online porting and kind human services 24/7
Whether you've never heard of Tello before or you're already using the service, the best wireless deal is for you or someone close and is available until December 16. It includes 5GB + unlimited talk + text + international minutes for $10/ the first month of service and $19 /mo going forward. So, if you're new, you can cut costs for your phone bill starting in December, by grabbing this offer. If you're a Tello fan, then you have the option to add a new line in your account for someone in your family or a friend as a useful Christmas gift.