With Tello Mobile, calling abroad is no different than calling across the street!
🔊 We're super excited to share this news: your Tello phone plan got an upgrade, free of charge.

The added benefit: free international calls to more than 60 countries, included in any phone plan!
This is our way of telling people who have family and friends abroad: we see you. We know how difficult it was to see them in the past year. And just how much you've missed being there, in person, for all the milestones, family events, and holidays. 
Big families, with 10 chatty cousins overseas that know everything that happened on the block, are soooo fun! But extended families should not mean extended phone bills. Not on our watch!
We know calling cards and extra roaming costs added to your cell phone bill are a pain. We want to help. And what better time to do so than in the month of our 5 year anniversary? We know. We're happy about it too!
➲ Things to know: is there really such a thing as a $5 phone plan with free international calls?
Yes, totally. 
Actually, every Tello phone plan *that has minutes* will include, by default, the list of 60+ international destinations, free of charge. 
Choosing a phone plan with international calls included is a great idea if you call abroad on a weekly/ monthly basis. The more frequent the international calls, the more sense it makes to make sure your phone service has this extra benefit. 
Tello Mobile makes texting and calling internationally easier than any other provider. No more borders and sky-high phone bills. Or swapping SIMs 🙄.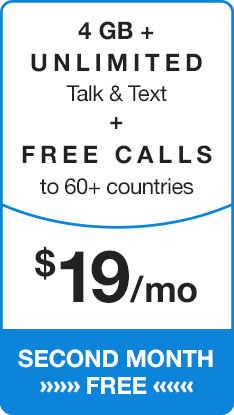 See this phone plan combination?
It's guaranteed to bring your savings for dayyyyys. 
The second-month free deal is valid until May 31, 2021.
Yes, there's still time to grab it if you add a new line to Tello.
After the promotion ends, you'll pay the regular cost of the plan. Still a bargain!
📌  How to port your number to Tello
➲ What does that mean? How exactly are you going to be charged for calling a country that is included in your plan? 
If you have an active plan with minutes included, we'll deduct the number of minutes used to call that specific country from your plan balance. Just like before! 
Until now, any Tello phone plan had calls to Canada, Mexico, China, and Romania included and worked exactly like mentioned above. Easy. The only change is that we've upgraded the list of international destinations. 
➲ Where can you see the destinations included for free?
Head over here to see the complete list of countries included for free in any Tello plan. We even have a new page on our website, just for them. Yes, international calls to landlines and mobiles are both built-in your current plan, depending on the destination. 
Really, it couldn't be easier. See for yourself!
➲ How about international texts?
Best international phone plans without free unlimited text included? No, no way! 
Of course international texts and MMS are a given. You get FREE international texts for all the countries included by default in your plan. For the rest, it's just 1¢/text with Pay As You Go. No more international phone bill shock! 
➲ Can't find the country you're looking for on our free list?
No need to worry. You can still get amazing savings with Pay As You Go Credit.
See our low international rates here and be sure to check from time to time, since we're constantly reviewing and extending our list of free destinations, but meanwhile, you can use Pay As You Go Credit in addition to your plan and make cheap international calls using prepaid minutes.
Pay as you go credit from Tello is code for low minute-to-minute rates. 
➲ How to call internationally with Tello Mobile?
If the international number you wish to call starts with a 0, you must omit this digit in most cases. The initial zero is a "trunk prefix" used solely for domestic calls within many countries.
The plus sign (+) used before an international telephone number can either be dialed or replaced with your country's exit code. E.g.: if you are in the US and you see this UK number +44 7000 000 000 you can dial it as is or replace the plus sign with 011. 
Note: On most modern phones, the + is not required. The phone sends along the digits dialed and the network interprets the intent.