Introducing Higher Data Plans and LOWER Prices
Starting June 11, Tello Mobile's phone plans get even more affordable and appealing to budget-wise customers aka smart people who know that hard worked money is better spent on other things, and not wireless. With this new plans' refresh, the era of overpriced wireless is over!
💭 What does that mean for Tello's Existing Customers?
In a nutshell, more BANG for their buck! We love numbers, so here you have a cool breakdown:
85% of our customers get a plan upgrade (they get more minutes, more gigs or both added to their current phone plan for the exact same cost per month – YAY)
24% get the best out of both worlds (they benefit from a plan upgrade as well as of the price decrease – WOW)
All these lovely changes will happen at the next billing cycle and can be seen in the customers' account. One can always make the upgrade sooner, before the billing date, at no extra cost, how cool is that?
💭 What does that mean for Tello's Newcomers?
New lower prices and unexpected savings on your phone bill once you make the switch!
Higher data allotments & Bigger Savings with prices that go down by 35%
Tons of happy customers already know that Tello is a competitive and incredibly generous wireless provider that shares people's love for savings. That is why we slashed plan prices to fit every budget. Get this: you can have 1GB plus unlimited talk & text for just $10/mo (used to be $14/mo.), 2GB plus unlimited talk & text for $14 (was $19/mo.).
According to ABC the average American spends about $1,000 a year on his cell phone bill. Analysts estimate that 80% of American are paying service providers $200 a year for excess minutes, messages, and data. That adds up to over $52 billion of wireless waste a year!
These new price changes mean that 85% of existing Tello customers get more in their phone plan for the exact same price. Our way of saying thanks for being in the Tello family. Here's how the prices line up in all the possible combinations: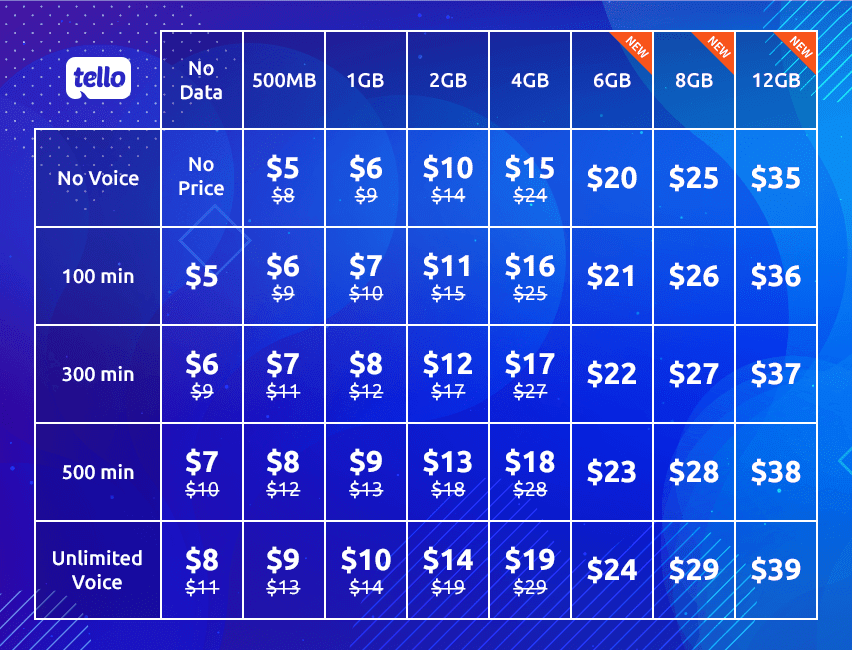 📌 How Tello Mobile Beats the big 4 & other MVNOs at Customer Satisfaction
Saving money on your phone bill doesn't mean having to sacrifice on data
Bargain hunters & heavy data consumers alike can benefit from Tello's unmatched flexibility. The possibility to build your own plan goes beyond dollars and cents. It's the ultimate perk of an affordable provider.
At Tello, you can have talk & text only plans and data exclusive plans. You are in charge of your phone bill, usage, as well as ramping up or down your cell phone, free of charge.
The second piece of good news, besides the price drop, is related to some new juicy entries. Tello's already attractive array of data plans welcomes 3 new entries that can come in any plan combination you want:
🥑 Best Phone Plans for Millennials: Time for your very own cell phone plan!
A low-cost carrier with all the Big perks
⛱️ No contract, No fees, No Problem
All of Tello's plans are prepaid, which means you can cancel at any time with zero termination fees. You can also bring your own phone to use with Tello, just check to see if it's compatible and enrol it with a Tello plan without any activation fees.
💎 A cheaper, better cell plan
A huge chunk of our monthly budget goes on our cell phones. In most cases, we stick to that same old plan without knowing you're actually paying for more than we use. With a super affordable MVNO, like Tello, you get the same coverage and speed like a big carrier, minus the huge cost.
🙌 Outstanding customer support
Tello's Human Customer Service Team is impressive. So say more than 4.9k unbiased reviews on TrustPilot.com.
📲 Phones – Buy New or Bring Your Own
If your device is compatible, unlocked and ready for savings, it's perfect to join Tello. You can check compatibility here. If you're looking for a new phone, we have a great selection of both new & refurbished devices to choose from.
🔆 Simple Plan Management
You have the ability to manage your account from our app or website. Switch phones, switch sims, add more data, change your plan or even turn off text messages right from the account dashboard. You can also block your phone number if you lose your phone.
🏈 Free Tethering 
We believe the data you pay for should be used in any way you see fit so they included tethering from your phone at no extra charge!