Seniors embracing technology
Change is difficult. Our brain itself is built to resist it and keep us in what we know for decades.  When it comes to seniors and technology, let's just say that it was not love at first sight. The digital divide is even deeper when related to their use of smartphones. 
Although nowadays, seniors are more digitally connected than ever – 4 in 10 seniors now own smartphones, more than double the share that did so in 2013 – some are still pretty hesitant to give up their old flip phone and get on board with a touch screen device.
💡The sure-fire perks of smartphones that any senior would find hard to argue against 
Since roughly half of older adults own some type of smartphone,  we thought we'd start with the undeniable benefits of owning a smartphone.
Advantages of using a smartphone:
✔️ It improves your communication and it keeps you informed
Do you miss your children or grandchildren? Now it's easy to make a video call, just press one button and voila! The face of your loved ones appears on your smartphone;

Remember that old friend of yours from college, what is he up to? Hmm maybe you can find him on facebook and catch up; 

You can read newspapers and watch the news online – even the ones from yesterday in case you missed it; 

You can always rewatch that football match you liked and made you feel proud to be an American.
✔️ It saves you time
It's a rainy day and you are not really in the mood for going shopping? Using your smartphone you can order your groceries online and have them delivered to your home.

The same thing is valid for food, just choose your favorite dish and have it delivered in no time

Tired of having to remember all the birthdays, appointments and daily routine ? There are plenty of apps out there that help you stay organized with your daily schedule;

Want to go with your sweetheart somewhere nice but not sure where and how to get there? No worries, you can search online for a place with great reviews and Google Maps or any other map application can guide you like a GPS.
✔️ It helps you to stay fit and healthy
How was it – 10000 steps a day keep the doctor away? Well your smartphone can count them and you will know exactly what's your progress for the day. Even more it can measure your pulse and remind you when to drink water – don't forget to stay hydrated.
✔️ It will make you feel cool and proud
It's never too late to learn new things and why wouldn't you? Besides, staying up to date with technology will make you the cool senior out there, you can even brag to you friends about it and why not, even teach them some new things.
✋ Common barriers that keep seniors from smartphone adoption
Fact: older adults face unique barriers to adoption, ranging from physical challenges to a lack of comfort and familiarity associated with technology.
Now that we have seen the advantages, let's talk about the arguments that can keep you away from buying a smartphone:
➖ Smartphones are expensive
This is not really true nowadays when all the big companies release new phones every year and the price for the older phones goes down. A smartphone might be expensive if it is brand new and has all sorts of great features like for eg six cameras on the back and two cameras up front  – sure, you can make extra sharp photos but are you sure you want that?
➖ I am too old for this 
All new beginnings are scary. Maybe you are telling yourself you won't be able to use it correctly or maybe it is just too difficult. The truth is you have to have patience and take it one step at a time just like we do with all the new things in our lives. We are constantly learning and improving and our age has nothing to do with this. You'll see that in no time you'll be able to take cute selfies and even send them via social media.
➖ It's complicated
The screen is too small; the size of the lettering is wrong, the buttons are too small or missing altogether; there are just too many apps that you don't use; you prefer keypad not touchscreen; the volume has to be louder and many more.

Rest assured that whatever the problem you're facing, there's a solution for it. You only have to take them into consideration and do your research before buying a new phone. There are  5.11 billion unique mobile users in the world today, if they managed, so can you – just sayin'.
What is the best smartphone for seniors?
Giving general advice is all good & dandy, but when it comes to actually picking something that suits your needs, we need to get into specifics. 
We gathered up a list of the most recommended smartphones that are both reliable & affordable: 
Next step: best phone plans for seniors 
The next thing is to figure out what type of plan plan works best for you. Don't worry, Tello's got you covered again: service for $5/mo without contract and without fees. You get 100 minutes and Unlimited Text. Nice right? And if you like it you can upgrade your plan, maybe add some data and see how that works for you.
Moreover, Tello's Human Customer Support is at your service 24/7. Since around 2/4 of Americans ages 65 and up state that: "When I get a new electronic device, I usually need someone else to set it up or show me how to use it", having a real person walking you through any potential issue you might have is a blessing.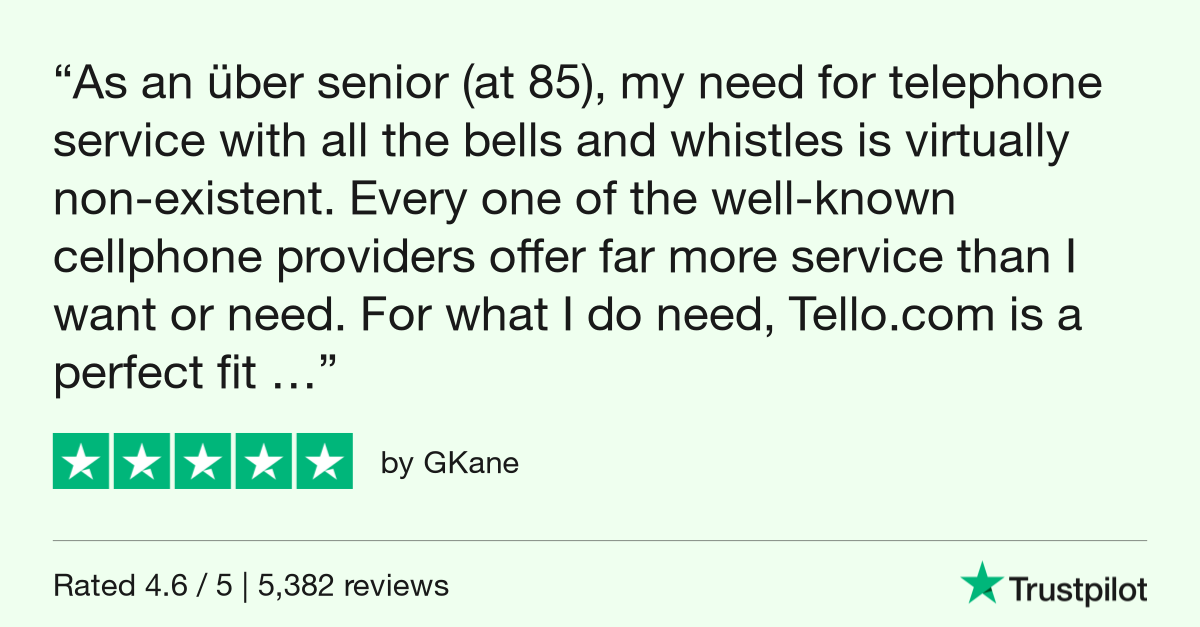 Tello's special giveaway: win a senior-ready smartphone by answering a simple question
No encouragement is better than the actual thing, right? We're putting our money where our mouth is and launching a giveaway special catered for seniors. 
Since we honor your experience, we're inviting you to share a nugget of wisdom & leave us a comment with your best life advice. The prize: a Moto E4 phone just for you! 
Leave your comment here or at our Facebook page until Dec 11 and get a chance to win the phone! The contest is for new Tello customers only, and the winner will be randomly selected and announced on Dec, 17, 2019. Good luck!