How about an all-in-one phone plan that has international calls included by default?
Looking for the best US-based phone plan with international minutes included? Look no further than your Tello phone plan! Not a Telloer yet? You will be after knowing about all the built-in perks that come with every plan! TRUST!
Tello plan minutes work for both domestic & international calls. No extra fees, no add-on
That means that if you have a Tello plan that includes minutes, you can use those very minutes to call within the US, but also to make calls & texts to 🔆  more than 60 countries worldwide 🔆.
The minutes will be deducted from your account balance, so you'll never have to pay extra for calling internationally from the US, provided that your destination is included for free in our list. For the ones that cannot be found here, you'll still get discounted calling rates with Tello Pay as You Go Credit. 
How does international calling from the US work with Tello? 🌎
Couldn't be easier: Get a Tello Plan and enjoy unlimited long-distance calls from the US to landline phones & mobiles in over 60 countries. There's no more need to buy a calling card. Or to get an add-on to your plan. No bolt-on, no extra cost, no surprise charges at the end of the month.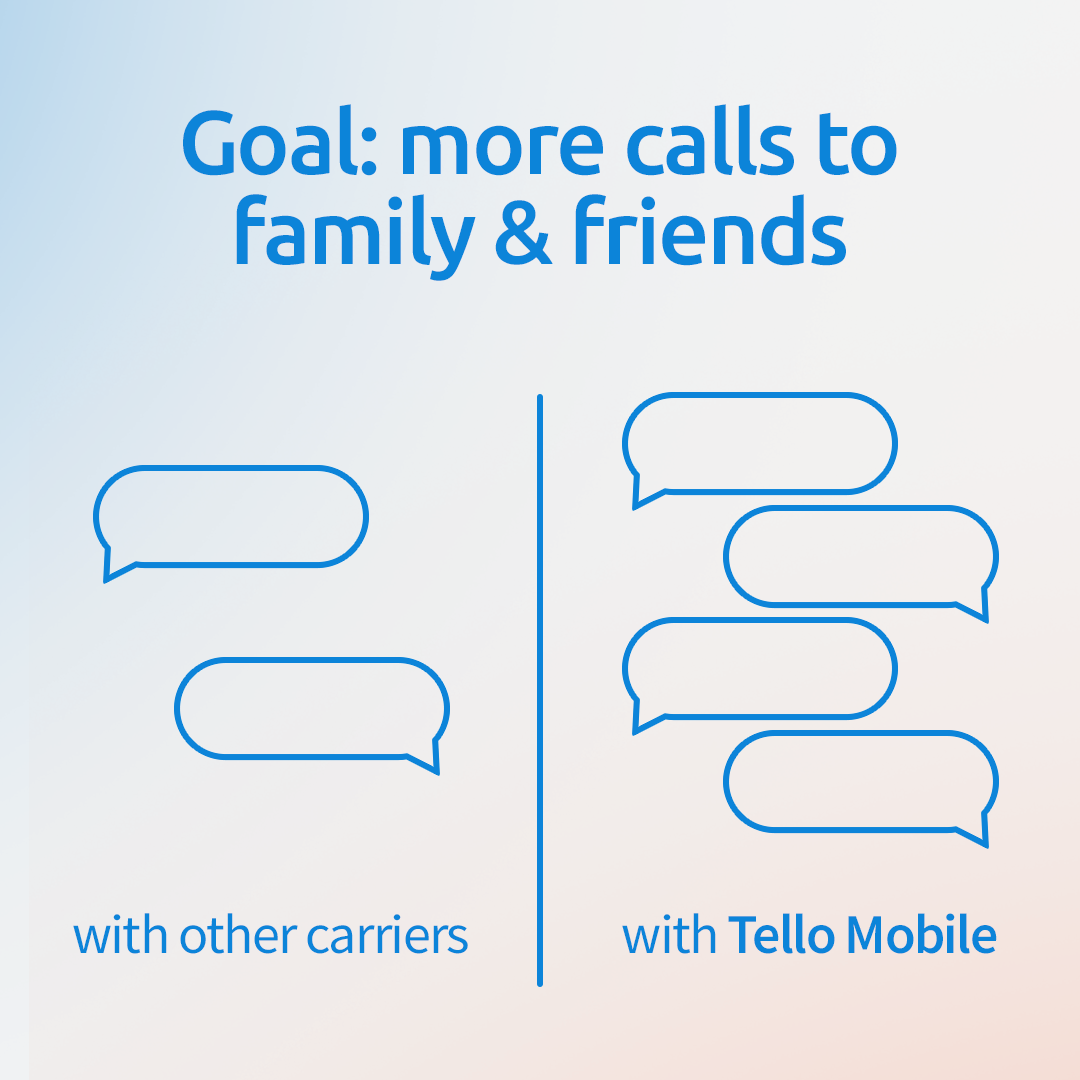 Have friends and family abroad? Just give them a call! Or text like there's no tomorrow. No fuss. 
⚡ Disclaimer: Since Tello phone plans can come with unlimited international minutes included, depending on your plan combo, they are the best fit for big, chatty, loud, tight-knitted families from all over the world. You know who you are!
You can chat all day long with your favorite cousin or brother-in-law. You can call them just to say "hi", and not only for the holidays or birthdays. You don't have to set up anything in your Tello account in order to get international long-distance service. You just have to dial. Quick, convenient!
Check to see if your destination is on our list of free countries included in any Tello minutes plan. If you can't find it there, remember that Tello's minute-by-minute rates are still a bargain for international calling, starting at 1 cent per minute. Ready, Set, Call!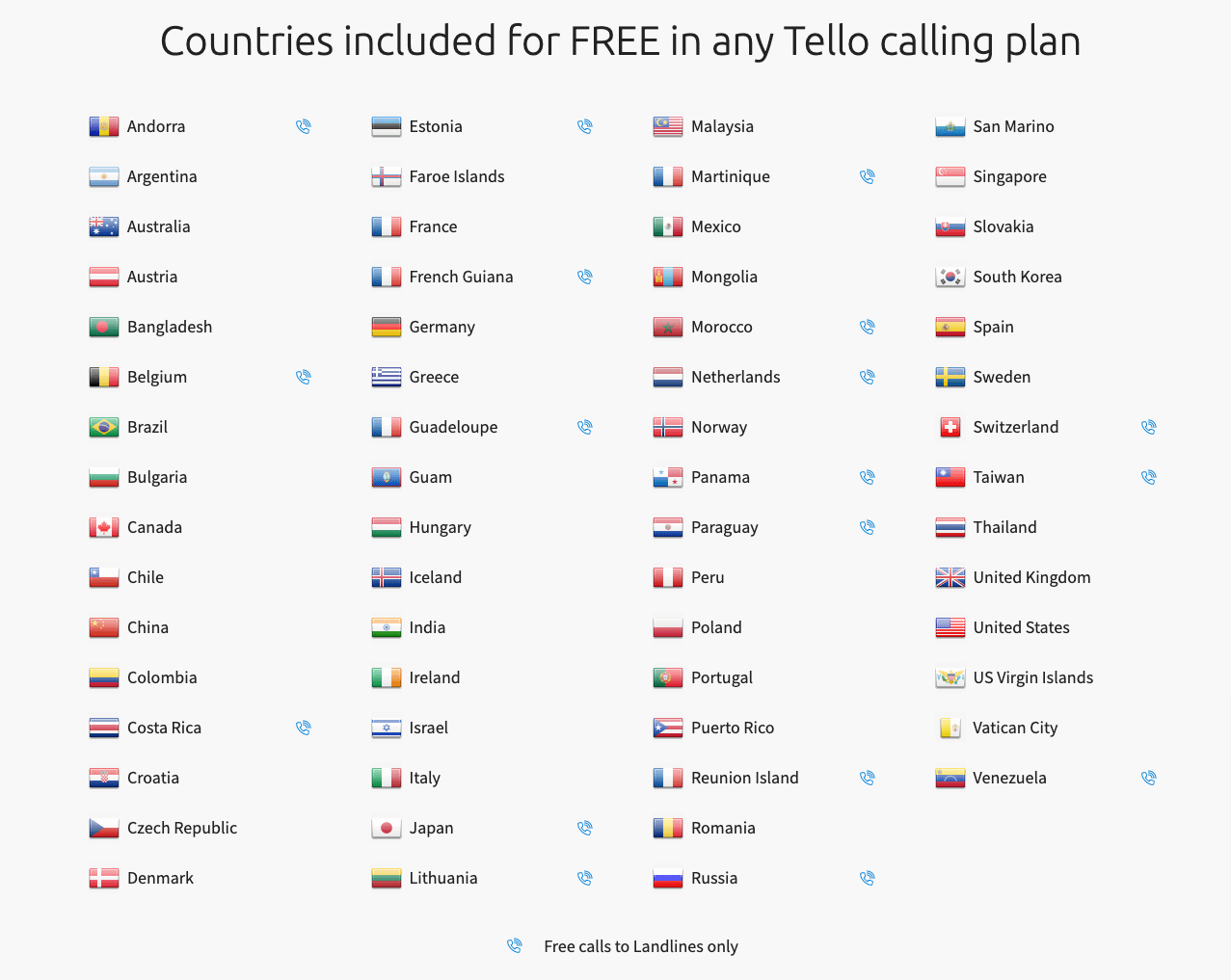 If you're a frequent traveler, you can still use Tello when abroad. Wi-Fi Calling makes everything possible!
So, in addition to the 60+ international countries added to Tello phone plans, you also get Wi-Fi Calling. You can still use Tello to call your mom and let her know that you landed safely or text old college friends when you're in for a visit. Yup, Wi-Fi is that on-the-go lifesaver that makes things so much easier.
Tello Wi-Fi Calling & Texting has no additional charge. It's simply taken from your existing plan balance or your Pay As You Go balance. For example, if you receive any calls (no matter where from) or if you call the US or any of the 60+ included international destinations, then the minutes of those calls will be deducted from your minutes' plan balance. If, on the other hand, you call an international destination that is not included in our plans, then it will be charged from your Pay As You Go balance if you have one. The same logic applies to Wi-Fi Text.
📌  More about Wi-Fi Calling with Tello Mobile here
💬 Recap: Tello Mobile = Super affordable plans + International calls + Wi-Fi Calling. All in one place.
The best part? It takes less than two minutes to get started. There's a Tello plan for every need. The international calling options are included from the get-go. So is Wi-Fi Calling. Oh, and the Free Hotspot. So, it's pretty easy to see where all the wireless savings come from. No wonder we got a great rep.