Tello: best for build-your-own wireless plans?
Guest article by Tara Donnelly
You can read the entire article on WhistleOut.com

If you want a cell plan that gives you room to move or a build-your-own plan, and aren't impressed with the offers from the big carriers, online-only operator Tello may be the cost-effective solution you've been looking for.
Tello is a fully customizable, contract-free provider offering service on a nationwide network. Besides shunning contracts, Tello also steers clear of overages, activation and termination fees, and other surprise costs – and all plans come with unlimited 64kbps data in addition to your high-speed data inclusions.
The flexibility of Tello's service makes it ideal for customers who find their cell phone use fluctuates from month-to-month, or for light and occasional phone users. You're not locked into a plan where you'll pay for services you don't use or need every month, and you'll be free to switch around your talk, text and data amounts whenever necessary.
Customization = cheaper bills
You can build-your-own changeable plan by selecting the amount of voice minutes, text messages and data they think they'll need each month. There's a minimum plan value of $5, but customers are free to pick and choose which combination of minutes, messages and megabytes will best work for them.
For an average smartphone user, 500 voice minutes, unlimited text messaging, and 3GB of data (including tethering) will attract a $44 monthly fee ($10 for your call minutes, $3 for unlimited texting, and $31 for your data). The maximum plan cost is $63 each month; this includes unlimited voice ($15), unlimited text, and 5GB of high-speed data ($45).
Tello has already arranged some predefined plan deals for customers to select from. The Economy plan includes 100 minutes, 200 texts, and 200MB of 4G LTE data for $9 each month, while the Value plan is priced at $21 monthly and includes unlimited texts, 500MB of fast data and 500 minutes of calls.
If you want unlimited calls and texts, Tello's Smart option gives you both (and 2GB of LTE data use) for $39 each month, while the Data Savvy plan includes 500 call minutes, no text messages and 5GB of LTE data for $55.
Tello vs. the competition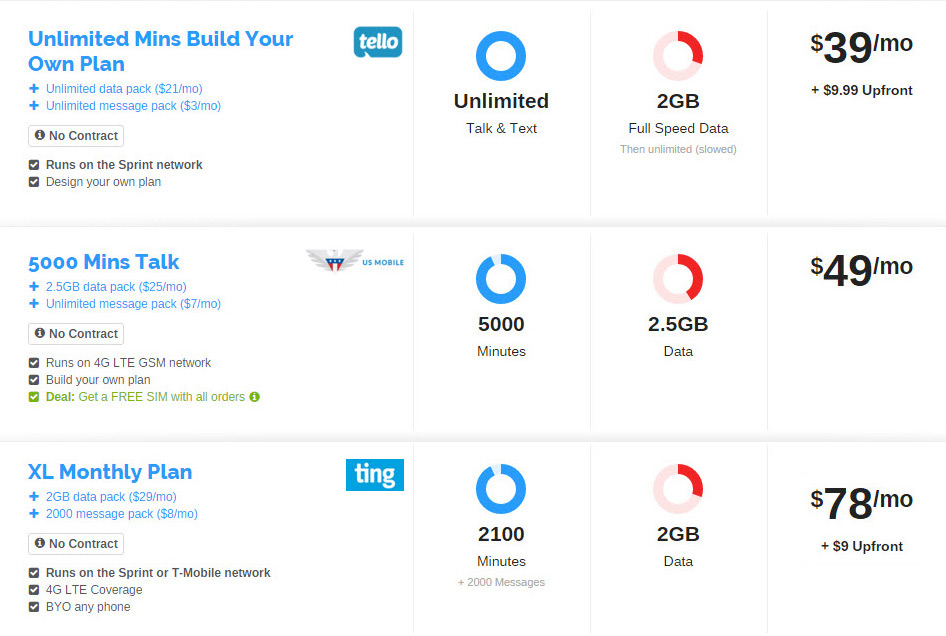 At $39 per month, Tello is the cheapest option by $10 – although US Mobile's $49, 5000 minutes plan does include slightly more fast data, at 2.5GB. Ting, meanwhile, is surprisingly pricey if you're after average-to-heavy data: its XL Monthly Plan with 2GB will cost customers twice as much as Tello's $39 offer and includes less talk time and text messaging each month.
Pay As You Go, international and bring your own phone
Although international calls and texts aren't included in Tello's plans, you can contact loved ones outside the US through the company's Pay As You Go options. Pay As You Go allows customers to call, text and browse the Web, but only pay for the minutes, messages and data they actually use.
Customers can open a PAYG account, buy credit, and then use their credit balance to contact domestic and international numbers, and to use data within the US. Domestic PAYG rates include $0.04 per minute voice calls, one-cent texts, and data for $0.02 per megabyte.
International rates vary between countries, but if you're contacting Canada, expect to pay $0.01 per minute for voice, and $0.01 per SMS. For customers with contacts in Mexico, rates are $0.01 each minute to make landline calls, $0.012 per minute to call mobiles, and $0.01 per SMS.
Finally, if you're wondering: yes, you can bring your own phone to a Tello plan, provided it's compatible. Otherwise, you can buy a new phone directly from Tello, with prices starting from $66 for entry-level devices, up to the $380 mark for the iPhone 5s or Galaxy S5.