It's not a surprise anymore: Savings are our success stories.
That's why on our birthday, we want to give more of them to our customers, loyal ones and newbies. And what's better than FREE Account credit that organically transforms into ZERO dollars phone bills in the future? 💸 💸 💸
This is a promo you won't wanna miss: Refer a friend to Tello until the end of the month and you both get ✨ Double Tello Dollars ✨. It's a ​​maximum impact and minimal effort type of deal that brings value all around. All aboard. 
Ready to bag easy money? 
For when you want your money to work for you, it doesn't get easier than this: refer your friends to Tello and for each one that places a successful order, we'll give you $20 Tello Dollars. 
The usual amount is $10, but since we're in the middle of a celebration – Tello turns 6 this May –  we're feeling extra generous and we've doubled the earnings. Your referred friend gets the same amount as well. So that's $20 Tello Dollars for everyone. 
Things to know about Tello's Referral Program 😉 ⤸ ⤸ ⤸
How do I refer a friend to Tello?
You go to your Tello account → you got this! 

Find your referral link → tap the left corner and go to the "Referral program" section

You'll find the unique referral link & can copy it directly → tap, tap!

Share it as you like – on social, via a text or an email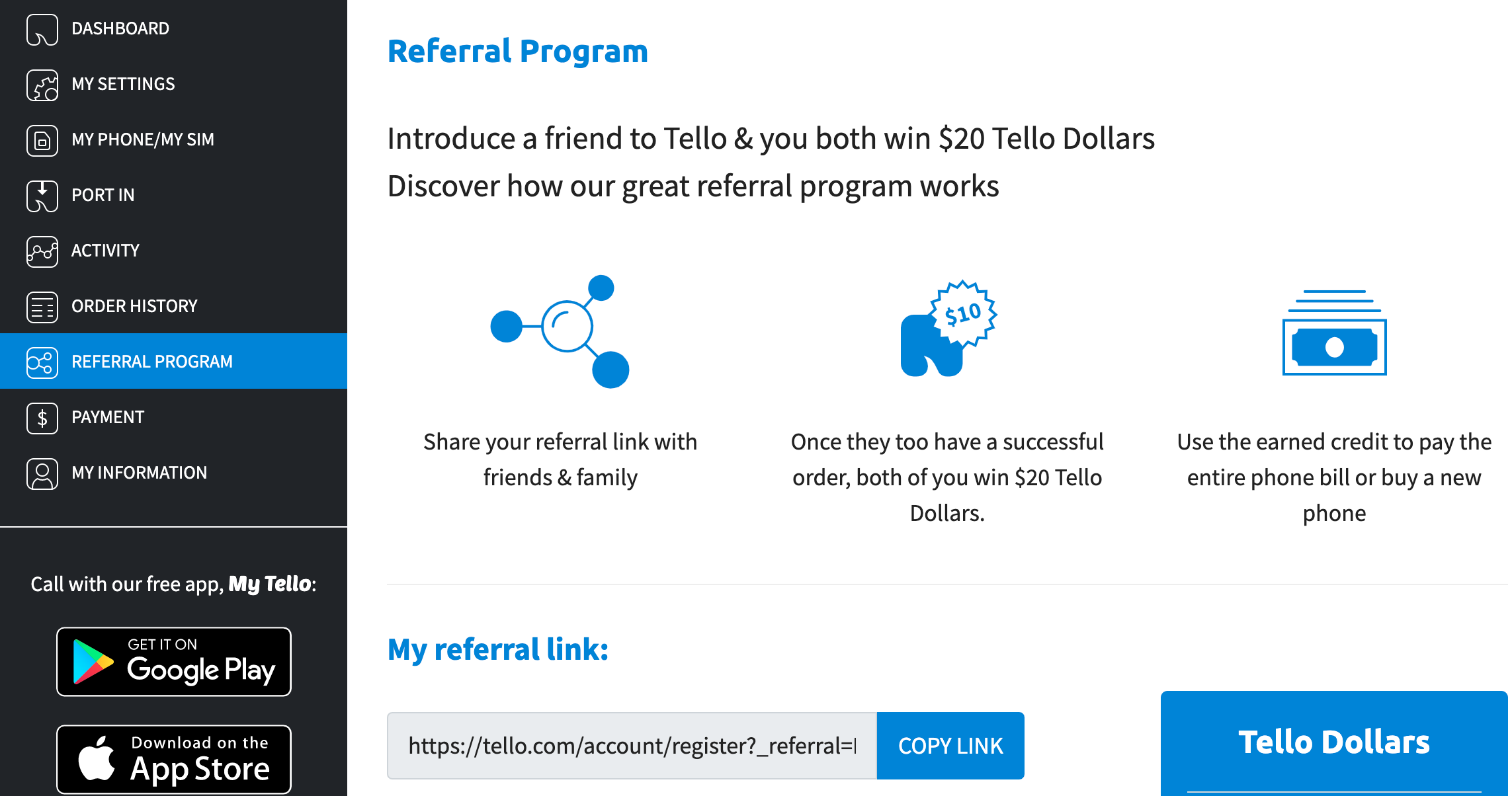 What does my friend need to do? 🤙
Sign up to Tello using the referral link you provided

Choose the phone plan combo he wants

Bring his phone or get one from us

Place a successful order

Enjoy our super reliable service!
How to use your Tello Dollars? 🙌
For when you're already thinking about how to make ends meet this month … Relatable. Trim one recurrent expense off your list and pay full phone bills with your earned Tello Dollars. You can choose them as a payment method at the checkout. 
For when you're keeping your eye out for a good Tello phone sale (like the one we're having now!) … use up all the Tello Dollars balance and put it towards buying a device from us. You decide when it's time for an upgrade. 
For when you need to save up more money for your next vacay … think doable savings. Like using your Tello Dollars to pay the invoice for a couple of months and add the extra cash to your holiday budget. 
Yup, all that is possible because of well…math! 20 Tello Dollars = $20. And with $20 you can have 2 months of 1GB + unlimited talk & text for free, for your kid, for example. And that's just what you get for making 1 referral. Imagine getting 5 of your friends & fam to Tello and pilling up the rewards. 
Need extra ammo to persuade friends to join Tello?