How can I bring my current phone number over to Tello?
That's the question we're answering today, so if you're tired of paying big money to big cell phone companies and just need a phone plan that's tight and right for you, listen up!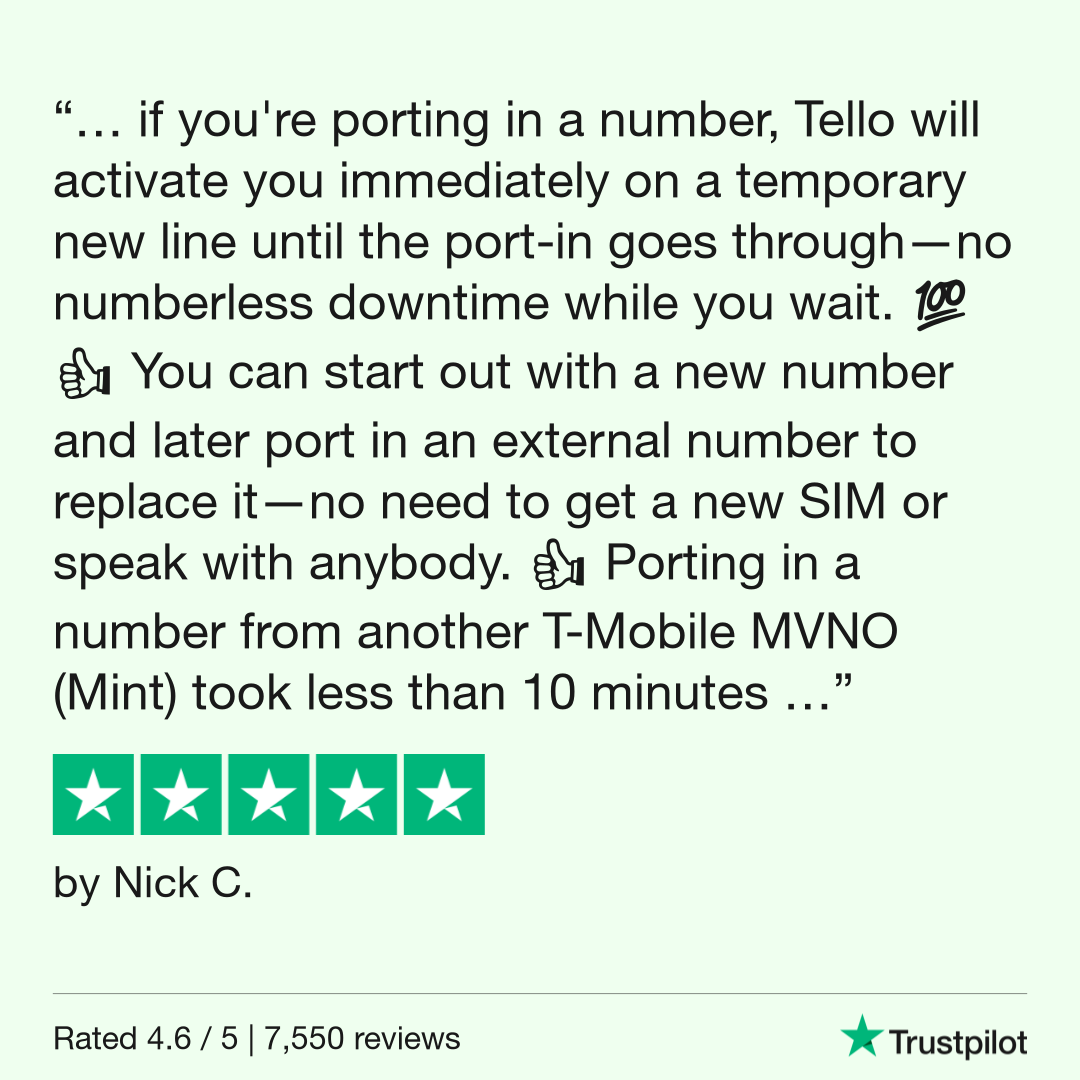 Switching cell phone providers can be a bumpy ride, but that's so not the case with Tello Mobile.
If you've been puzzled by so many previous port-in experiences that got you asking: "Why'd you have to go and make things so complicated?", prepare to be amazed. 
We present you with the easiest port-in process in the history of wireless! For real!
We've designed the entire process to be pain-free. Because porting your number should be easy. Every. Single. Time.
Everything happens from your online account only. 
💎 Port-in to Tello Essentials: you've ordered a Tello GSM SIM and activated it via your online account. If you skipped this step, go to your Activate SIM page and follow the prompts to activate the service. This is important because the port in option will not become available until your line is successfully activated.
Go to the

"Activate SIM"

section of your Tello online account.

Fill in the field(s) required and follow the prompts.

Once our website has confirmed that the activation process has finished – which can take up to 20 minutes – wait another 5 minutes.

Insert the new Tello GSM SIM (logo side up) and switch the fully charged phone ON.

Follow any on-screen steps provided and your phone should start to automatically activate the Tello service.

If your phone does not activate automatically, please wait 30 minutes, then reboot your phone and try again – these things happen. 

You can also manually activate your phone by following the steps under the FAQ at the bottom of the

My SIM

page.
Once you've successfully activated the Tello GSM service – yay, you! Follow the steps below to start the number transfer process. All aboard!
📌 Need some help with inserting the SIM into your device? We've got you!
1. Submit your number transfer request directly from your Port-in page.
Don't worry if you don't see anything here, from the get-go: the port-in form will only become available & visible after you properly activate your SIM.
2. Enter the phone number you wish to transfer and click "Check".
If the number can be ported, you will be prompted to fill in the port-in details and you'll just need to follow the provided instructions.
💎 Important stuff: If you have not done so already, you will need to contact your current provider to retrieve the following information directly from them. Guessing the details required below is a no-no because submitting incorrect information means that the port request will be canceled.
Account number from your current provider

PIN number from your current provider

Your address as listed on the phone bill

First name and last name as listed on the phone bill

If the number to port is a landline, the last 4 digits of your Social Security Number
Once you've completed the required fields, click "Continue" and follow any other prompts that might appear and that's it! You have successfully submitted your request. Any notification about the status of the transfer will be sent to the email address you registered with Tello.
📌 More on the carrier transfer info you'll need, coming right up!
⏱️ How long does it take to port your number to Tello?
Short answer: from 2 hours to 2 working days for cell phones. Up to 5 days for landline and VOIP numbers.
Longer version: we're super keen on getting you set up on Tello ASAP, but the reality is that the speed of the port-in process depends on your current provider. If any of the information submitted is invalid and is not corrected by you within 3 business days we may cancel the port request.
Don't worry, you'll still have full service while the port-in is in progress.
Here are some port-in stories from our customers that prove we're not just bragging about the Tello port-in process, it's legit ⤸ ⤸ ⤸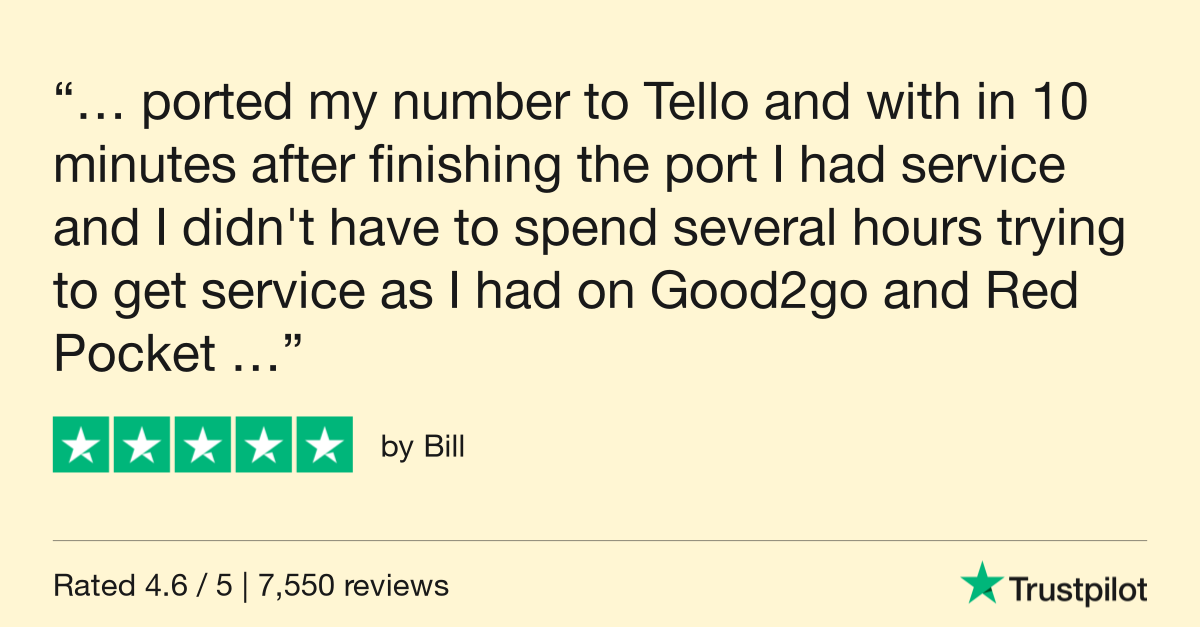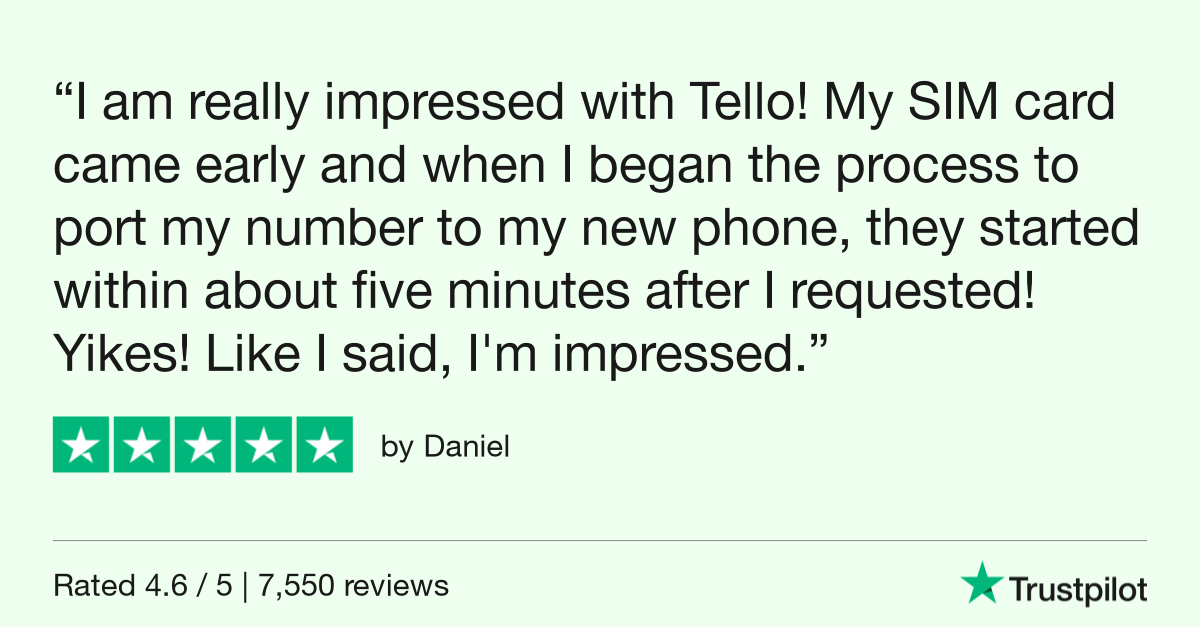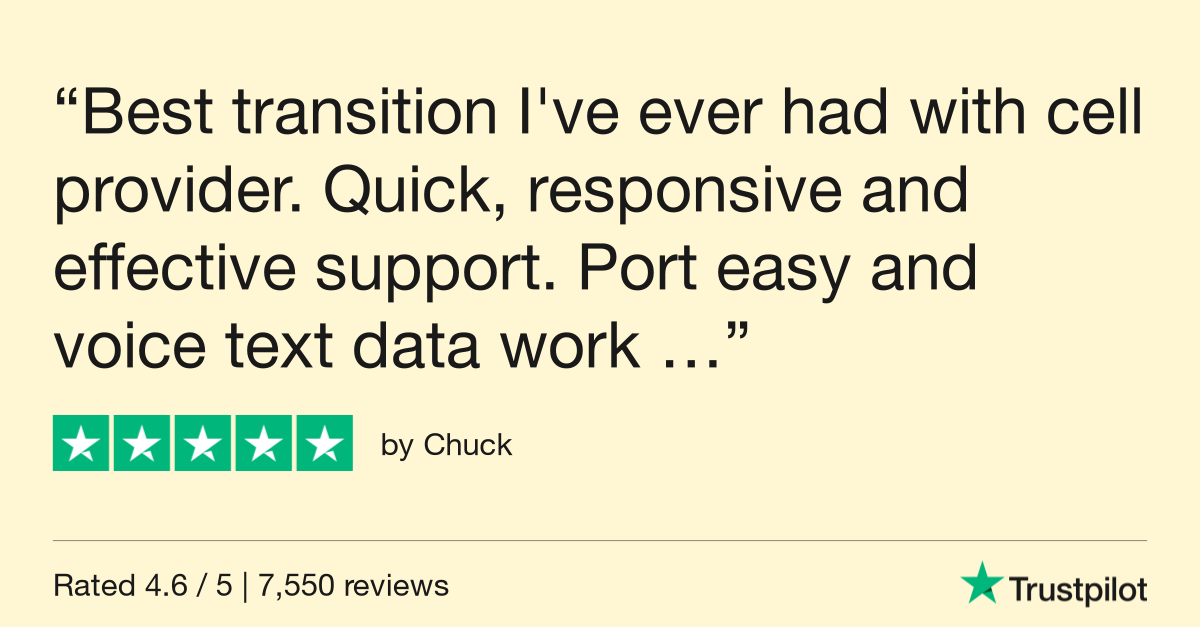 Once the port in is submitted, any notification about the port in status will be sent to the email address you registered with Tello.
🛠️ Troubleshooting: 
✔️ Even after your number has been successfully ported to Tello, it may take up to 3 business days before your ported number is reflected correctly as your Caller ID.
✔️ If after this period, your Caller ID still shows the wrong number, please email our Support team with the details and we'll gladly assist you. 
My Port-In is SUCCESSFUL – now what?
YAY! You're almost there. 
Now, you just need to update the network on your phone. To do this, simply restart your device and follow any on-screen prompts.
The last step is to set up your Voicemail which you can do by following these simple steps.
And that's a wrap! 
🤭 Ooops…something's wrong!
Most port requests go through quickly and seamlessly. But there are occasions when you may need to take further action – like the two of the more common scenarios that can pop up, presented below: 
Failed – This means that your request to transfer your number to Tello was rejected by your previous carrier. 
Action required: You need to contact that carrier as soon as possible and confirm 2 things with them:
that all the port information that you provided to Tello is 100% correct.

that they have acknowledged Tello's porting request and will release your number so that we can proceed with the transfer.
In Progress (after "Estimated Completion Date") – This means that you need to contact your previous carrier as soon as possible and ask that they acknowledge Tello's porting request and release your number so that we can proceed with the transfer.
The porting request should then proceed successfully and automatically within a few hours of them confirming the release and you will then receive an email to confirm that the transfer has been successful.
📲 Will there be any numberless downtime while I wait?
Every Tello SIM delivery for a new line generates a new Tello phone number by default, so you will see a new temporary phone number in your online account as soon as you activate your SIM. That ensures that you'll have no numberless downtime while the port-in process to Tello comes through. Pretty nice, right?
Your new Tello phone number will be auto-allocated based on the zip code entered & area code availability. We can't control the exact prefix assigned, but the prefix will be from the area code you register. After activating the SIM in your online account, you'll be able to port in the number you want and replace that Tello number.