Let's kick things off with a recap
Tello Mobile has switched to GSM. It's a big deal. 
Our fantastically affordable phone plans stayed the same. The features and perks all customers enjoy, expanded. The data speeds increased. The coverage improved. 
Things like Wi-Fi Calling, full VoLTE support, 5G, international calls included for free in any Tello phone plan with minutes are just a few of the good things that were added to our services these past few months and are now a given in every Tello plan.
📌  Wi-Fi Calling is now fully supported by Tello Mobile
We're doing our best to provide a seamless migration experience for each and every customer.
We're relying on your patience and proactive attitude. Feedback is always welcome, of course!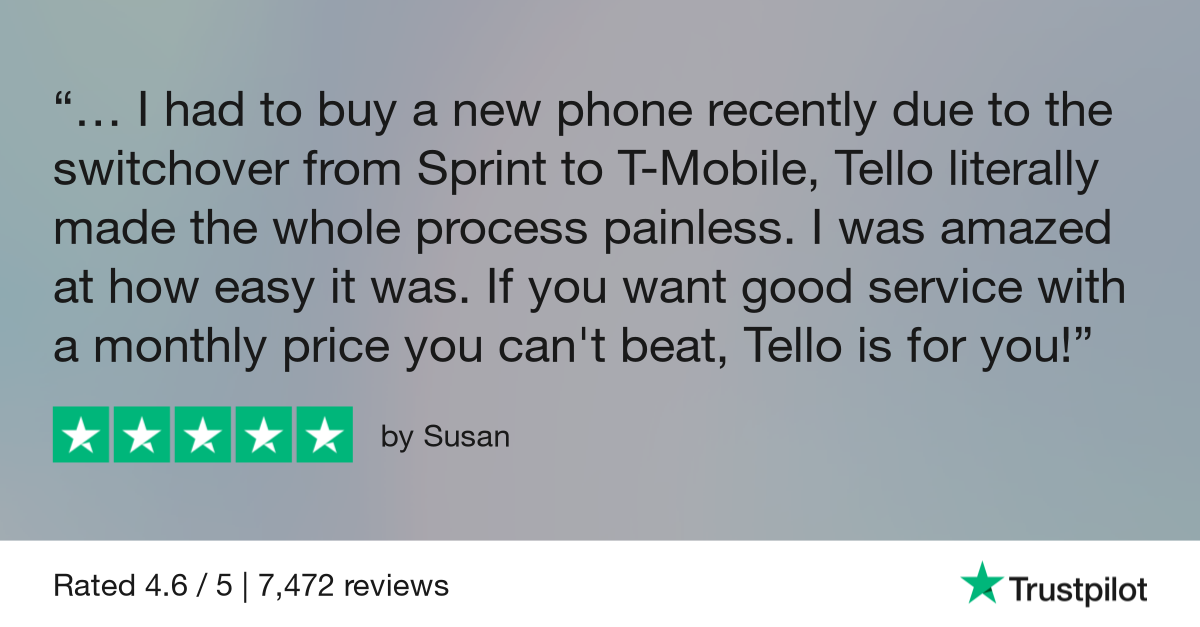 👀 What's gonna happen with our CDMA service?
Service on the current Tello CDMA network will still be available until late 2021, after which it will experience a gradual decline and subsequent termination. Ok, termination is a harsh word. But there's no going around it. 
And nothing we can do about it. Most of the CDMA networks in the USA are expected to close down or experience significant degradation of service by the end of 2021, with only one carrier delaying it until December 2022. So the switch to GSM was really a no-miss move if we wanted to continue to provide services and move forward and create a basis for improved and expanded service. 
👍  Does every Tello customer need to migrate to GSM?
 Absolutely, if they want to keep the Tello service, savings, and great features. 
By now, most of our customers have received a notification regarding their upcoming migration. Search for it in your inbox or Tello Account and follow the super easy steps from there. We'll send notifications and "action needed" emails when the CDMA deadline is upon us, to ensure that there will be no service downtime, for anybody. 
🤖 What do I need in order to migrate to GSM?
The "migration-ready kit" (we totally made that up!) needs to include an unlocked GSM compatible phone and a new SIM from us (free of charge for lines moving from CDMA to GSM). 
To ensure excellent service, we recommend activating your GSM compatible device by no later than the end of October 2021. If you are looking for the perfect upgrade for 2021, here's what to look for in a new phone:
VoLTE 📲
VoLTE means Voice over LTE and provides crisp, clear audio quality and helps prevent dropped calls. It's also a key feature that perfectly matches the requirements of Tello's new GSM network.  
Older phone models tend to be missing this feature more often than newer models. 
"The real benefit to using VoLTE is the incredible clarity you get on your calls. Because it uses fast data connections rather than the lower bandwidth voice channels you're used to, you'll be able to hear whoever you're talking to as if they're in the same room. No more having to ask people to repeat what they just said because it got lost on a crackly line!" -AndroidCentral.com
Bands 📡
The device must support (at a minimum) all the following set of LTE bands in order to be compatible with our new GSM network:
– Band 2 (1900 MHz)
– Band 4 (2100 MHz)
– Band 12 (700 MHz)
– Optional bands, that are great to have and mention-worthy: Band 71 and Band 66
When choosing a new device, make sure it checks these two tech boxes highlighted above ⤴ ⤴ ⤴ 
Newer phones from overseas markets will work perfectly with Tello as long as they are GSM (almost all are), have VoLTE & the bands listed above, and are unlocked.
Friends, we're aware that the cost of acquiring a new phone is an unexpected expense that you didn't factor in and that currently puts you between a rock and a hard place. To meet you halfway, we've prepared a great upcoming promotion, just in time for the back-to-school season. So, please stay tuned!
🤷‍♀️ How do I know that Tello GSM will be good for me?
Just like anything else in life, double-check! That's what we always say!
To make sure you're still covered, enter your exact address here and see how the signal is in your area. 
If you're not sure if your device is compatible, put your trust in our bring your own phone checker. Important stuff: Tello can't tell if your device is unlocked or not, nor can we unlock it. This falls solely in your, ergo the customer's responsibility. 
Pro tip: use Tello's site for the checking part. Forums have a wealth of information, other sites have good tools too, but for coverage & device compatibility, rely on our website. Should you have any questions, our Customer Support Team is one call away. Everyday.